VIETSTAR – More than a decade of contributing to high-level consulting and training for Vietnamese businesses
VietStar Training & Consulting JSC – VIETSTAR was found in 2008.  With more than a decade of training and consulting for Vietnam's leading enterprises, we position to become a domestic and regional leading training and consulting organization with the goal of Leadership and Organizational Transformation, Board Effectiveness, Vietnamese Enterprises' Sustainable Development Contribution.
Our passion is to offer the best solutions to our clients. We always strive to develop high value training and consulting programs based on international experience with the desire to contribute to the success of Vietnamese leaders and create value for Vietnamese enterprises in the international arena.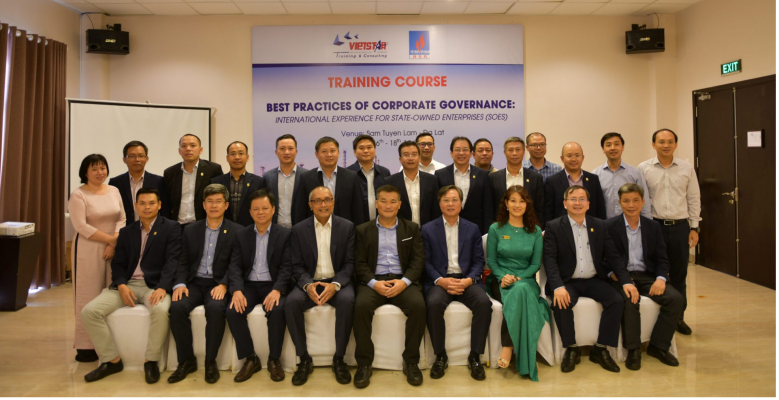 VIETSTAR is a partner and representative of leading educational institutions such as University of Washington – USA, Paris Graduate of Management – PGSM, PPA Business School – IPE Paris, Singapore Management University (SMU), University Ulsan – Korea, IPMA Professional Managers Association – UK, Consulting joint venture with KPMG Singapore, Tricor Investment Consulting Group (Asia's largest investment consulting group). Consulting firm Pareto Cost Consultancy BV (Netherlands), with partnerships with many leading educational institutions and corporations worldwide.
Through innovative training and consulting methods, tailored to each specific business, VIETSTAR has become a prestigious brand in world-class training and consulting for corporations and companies. such as Electricity of Vietnam (EVN), Vietnam Oil and Gas Group (PVN), Viettel Group, Northern Electricity Corporation (EVNNPC), Binh Son Refining and Petrochemical Joint Stock Company (BSR), Ca Mau Petroleum Fertilizer Joint Stock Company (PVCFC), Defense Industry Economic Technical Corporation (GAET) – Ministry of National Defense… and other businesses, banks, and commercial organizations for more than a decade.
Our Approach
We support businesses to achieve their organizational targets through the following approaches:
Transformational Leadership Programs;
Vietnam (VN) Corporate Governance (CG) Code of Conduct (CoC) – to ensure alignment with VN's strategic directions in corporate governance;
ASEAN CG Scorecard – to ensure alignment with a regional corporate governance direction;
Best Practices of a top performing overseas BOD – to adopt practical steps of a benchmarked organisation that is well regarded in corporate governance;
Breakthrough Executive Program – a unique and powerful approach to developing senior leaders;
Comprehensive Digital Transformation training and consulting program: Based on experience and best practices in Digital Transformation. Our Digital Transformation Training and Consulting program provides leaders and managers with a comprehensive and in-depth view of digital transformation, developing digital leadership in line with the Industry 4.0 era. Applying proven digital transformation solutions flexibly and effectively, contributing to the successful digital transformation strategy of businesses;
A peer-to-peer forum for Vietnamese and world leaders to share management experiences, solutions to business challenges to sustain growth and development of the Business even in crisis and challenging conditions.ãzZ
Our keys programs:
Corporate governance according to international practices
Executive Skills for Board Members in Challenging Times: Experience from Singapore
Effective Board Consulting Program
Digital Transformation for Vietnam's Leaders
Sustainable Business Strategy for Growth in Asia
Vietnam – Singapore Senior Board Forum